by Peter Nelson
Spring will soon be in the air and so will the bees! Coming to your screen soon an inspiring documentary – The Pollinators by Peter Nelson
The journey of being a keeper of bees began with the vision in 2017. The actual journey began in 2018 and then Larissa Pitton and I became partners in our journey of bee keeping in 2019. We had the opportunity to see this film sponsored by Worker and Hive Bee Supply in Calgary in the fall of 2019. The film educated and inspired us immensely!
My belief is that many of you would indeed be inspired and educated as well. So inspired I was, I have been working on bringing the film to Canmore. It was our hope to have a live screening with information booths and items to touch feel and breath, at this time live streaming is available to so many more with a live Q&A with Peter and Cyd and the end!
I am just delighted Peter's film is available to you all!
I have attached the link to the trailer and the link to ArtsPlace to register.
It is an incredible documentary to set you up of the spring that is about to unfold! Watch Listen and BEE amazed!
The Pollinators Trailer Live Screening Tuesday March 30th 6:00 pm
https://artsplacecanmore.com/whats-on/details/the-pollinators-film-virtual-community-screening
The Pollinators ~Film
Virtual Community Screening with live Q&A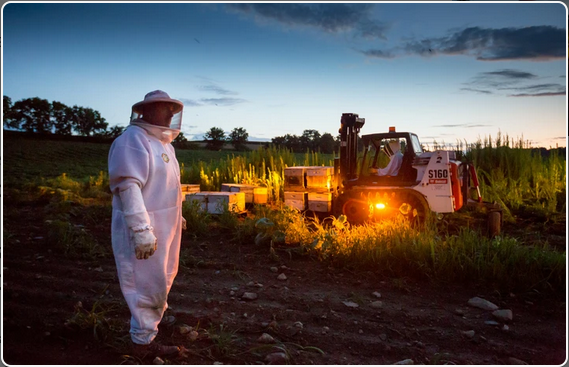 March 30, 2021, 6:00 pm – 8:00 pm | Tuesday, March 30 – Film at 6 pm, Q&A at 7:30 pm. Watch the 90 minute film and then join in for a live Q&A
Program Fee: $9
Program Fee Member: FREE – Member Appreciation Bonus!
"Alarmed at the breakdown of our ecosystem and threats to our food supply, and by extension, ourselves? The gorgeously shot "The Pollinators" not only provides a warning but is solutions-based." – G. Allen Johnson, San Francisco Chronicle
Bees are in serious danger. Populations of honey bees are dying at levels that are unprecedented. Close to half of the bee colonies in the United States die off every single year.
Thousands of semi-trailers crisscross the country in the dead of night delivering goods through the darkness to stores, warehouses and factories nationwide. But some of them carry highly unusual cargo. Honey bees.
Tens of billions of them are transported back and forth from one end of the United States to the other in a unique annual migration that's indispensable to the feeding of America. One out of every three bites we eat, the growth of almost all our fruits, nuts and vegetables, would be impossible without pollination from bees.
Director Peter Nelson talks to farmers, scientists, chefs, and academics along the way to give a broad perspective about the threats to honey bees, what it means to our food security and how we can improve it.
Join us for a live Q&A with Director, Peter Nelson and local beekeeper Cyd Fraser
Director & Cinematographer ~ Peter Nelson
Peter Nelson has been a Director of Photography for the past 29 years and has a diverse body of work including documentaries, feature films and commercials. The Pollinators is his debut feature film as a director. His short film, Dance of the Honey Bee had its broadcast premiere on PBS. Peter received a BFA in Film and Television from NYU's Tisch School of the Arts. He has been a backyard beekeeper for over 30 years as well as a passionate gardener and outdoors enthusiast. A passion for nature and documentaries keeps leading him back to explore the intersection between people and the natural world around us.
Local Beekeeper ~ Cyd Fraser
Cyd Fraser was born and raised in the Yukon. In 1991, she moved to Canmore, Alberta, and made the beautiful mountain town her home. A qualified and skilled journeyman carpenter, Cyd is also an accomplished master cross-country skier and mountain biker, and a mother of two girls. And, now, a beekeeper with Bee Adventurous Honey!